Our Outreach Programs
The WCS is committed to bringing quality music educational programs to our county's neediest. It is a very important part our of fulfilling our mission and comprises over 25% of our total organizational budget expenses.
Our annual programs for disadvantaged children include our award winning Jazz Institute for Homeless Children and Composers of the Future. We also hold a Young Artist Concerto Competition, whose three winners are featured in our February Young Artist Showcase Concert.
To find our more about one of our Outreach Programs, click on the name below:
Annual Jazz Institute for Homeless Children
Annual Composers of the Future Program

Annual Jazz Institute for Homeless Children

Trombones
This is a daily, after-school program, held in the fall for three consecutive weeks, for children who live at the Westhab Family Center in Elmsford and the Coachman Family Center in White Plans. Thirty children, ages nine to fourteen, participate each evening and work with a staff of six music teachers. Most of the children in our program have never studied a musical instrument before entering our Institute.
In our program, each child selects one instrument for private and group instruction. Either: trumpet, alto or tenor saxophone, trombone or double bass. Additionally, all children participate in our keyboard laboratory and receive regular scheduled group lessons in: music theory, ear training, music styles, jazz history and improvisation.
Keyboard
The children also receive weekly quizzes in all subjects as well as end of Institute report cards. Copies of these are mailed to both the children's parents and school music teachers. The children also give two public concerts at the conclusion of the program.
This exemplary program received the Westchester Arts Council's award in 2000 for Contribution to Community and Education. This program was created by Barry Charles Hoffman, Founder and Artistic Director of the WCS, in 1996.
Corporate and Foundation sponsors that have supported this program have included:
Bayer, Inc.
The Louis R. Cappelli Foundation
The Agnes and Thomas Carvel Foundation
Fuji Photofilm USA
The Glickenhaus Foundation
Eugene Grant and Co.
The William T. Grant Foundation
The Elias Gimbel Trust
Hitachi America, Ltd.
Kraft Foods North America, Inc.
The Josephine Bay Paul and C. Michael Paul
Foundation
New York State Assembly
New York State Senate
The Westchester Arts Council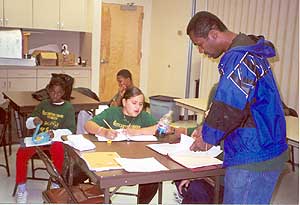 Composers of the Future Program
In collaboration with New Rochelle's Songcatchers (an after-school, non-sectarian program for children of low income families in New Rochelle ) the WCS produces this after-school program for young musicians. The program is held at St. Gabriel's Church in New Rochelle from late January - mid-April.
WCS was recently awarded a grant from the New York State Music Fund, through the Rockefeller Philanthropy Advisors, to expand "Composers of the Future." The two-year, $50,000 grant will allow the WCS to continue the current program while extending it to a "graduate" level, enabling students who have completed the first phase to delve into more advanced areas, such as orchestration, arrangement and small ensemble composition.
Unlike our Jazz Institute, in which the children have had little or no hands on musical experience, the Songcatcher children in Composers of the Future (COF ) already possess a strong foundation in playing and reading music. Twelve - fourteen children, ages nine to fourteen meet both privately and in groups, twice weekly with two noted composer/teachers, Jon Deak and Charles Griffin. There are also bi-weekly visits by WCS musicians who demonstrate, answer questions and play back the children's first short sample pieces.
The childrens' rich imagination and ideas are given ample expression to develop by the instructors, who are very adept at not trying to force their own ideas onto the children. The culmination of the program is the performance of all of these children's pieces in our final concert of the season at Iona University by the full WCS.
Each child is also allowed to attend the rehearsal of his or her piece and give Maestro Hoffman feedback on dynamics, balance, etc. Also, at the concert each child introduces his or her piece to the audience and explains how the title was chosen. At the conclusion of the concert, each student composer is given a full score, cd and video recording of their work. This program was created by Barry Charles Hoffman in 2001.

The New York State Music Fund is a program created by the Office of the New York State Attorney General to make contemporary music of all genres more available and accessible to diverse audiences and communities within the state. The Fund grew out of settlements with major recording companies investigated for violating state and federal laws prohibiting "pay for play" (also called "payola").
Past funders of Composers of the Future have been:
The Westchester Arts Council
The Ellias A. Gimbel Trust
The Janis and Alan Menken Foundation